Superior Genetics
We hand-pick our breeding stock each season and raise both pheasants available as fall flyers. We voluntarily follow Natural Poultry Improvement Plan practices to maintain the health of our flock. This includes avian influenza testing every three months. Despite the rigorous standards on our farm, we can not guarantee the health of our birds in your care. Please consider the NPIP guidelines in the rearing of your new birds.
We take pride in the quality of our birds and the hunting challenge that they provide. You can take pride in your purchase of Krug's Fall Flyers.
Important Pricing Information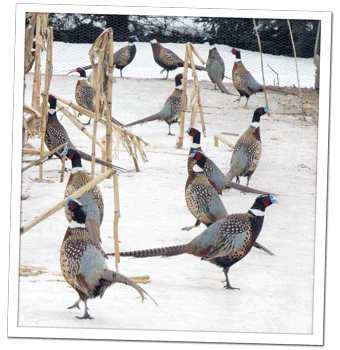 DEPOSIT REQUIRED
We ask for a deposit on all orders to be paid no later than April 15. Only orders with deposits will be guaranteed. This deposit will be credited to your final shipment.

DELIVERY CHARGE
A minimum of 500 birds is required for delivery. All deliveries are subject to a minimum delivery charge in addition to a fuel surcharge based on distance traveled. Delivery charges will be pro-rated when two or more orders are combined in one shipment. We do not ship during the week of Thanksgiving.
PAYMENT
All payments are due upon delivery. Past due accounts are subject to an 18% finance charge annually.
PRICES SUBJECT TO CHANGE
Due to ever-changing fuel and feed expenses, all prices are subject to change without notice.
Attention Fall Flyer Customers:
Thank you for your cooperation in our efforts to have enough birds to meet everyone needs. Once again, we are only holding fall flyers with a deposit to avoid having extra birds leftover at the end of the season and to keep our prices down. To attempt to estimate on the number of late season birds our customers need is a financial risk, so we appreciate your help and ask you to please plan ahead.
We are requiring a deposit on all orders. Your deposit is the ONLY way that we can guarantee to fulfill your order for fall flyers. Also note, if your order is not paid in full upon delivery, no discounts will be given and the price will be as stated on the current yearprice sheet.
Your deposit will be subtracted from your final shipment of birds. All birds must be taken by March 15 unless previous arrangements have been made. Any birds held after this date cannot be guaranteed in regards to their condition, particularly their tails.
For those who wish to go without a deposit, your orders will be filled on a first-come, first-serve basis with a $2.00 increase over price list. We will not guarantee birds for anyone who does not have a confirmed deposit on record. Due to ever-changing fuel and feed expenses, all prices are subject to change without notice.
We are not trying to frighten anyone away, only trying to plan better to meet your needs. We would love to raise more birds and keep you happy, but we need to ensure their sale by asking for your deposit in advance to cover costs.
Please feel free to call if you have any questions in this regard. Thank you again for your business.

Sincerely,

Susan Krug & Jenny Krug
Fall Flyers

Ringneck Pheasants:

50/50
Hens
Roosters
August
call
call
call
September
call
call
call
October
call
call
call
November
call
call
call
December
call
call
call
January
call
call
call
After January 1st, prices increase 2¢ per day.

Chukars: NOT AVAILABLE

Northern Bobwhite Quail: NOT AVAILABLE

Started 7-Week Old Chicks

Ringneck Pheasants:

Straight Run:
$5.80
Hens:
$5.40
Roosters:
$7.10

Spent Breeder Hens

Available in July only
$5.50

Day Old Chicks and Eggs

Available April through July
view pricing